The days are getting cooler. It's nice to be able to open a window in the morning now and not be blown over by the heat and humidity. The afternoons are still pretty toasty, though.
Lydia is getting too tall for her 18-month dresses b/c at church, her little bottom peeks out from beneath the dress when she bends over. I bought a few long-sleeve T-shirts and some coordinating woven material, and used
this tutorial
to make some fall dresses for her. They turned out cute, I think: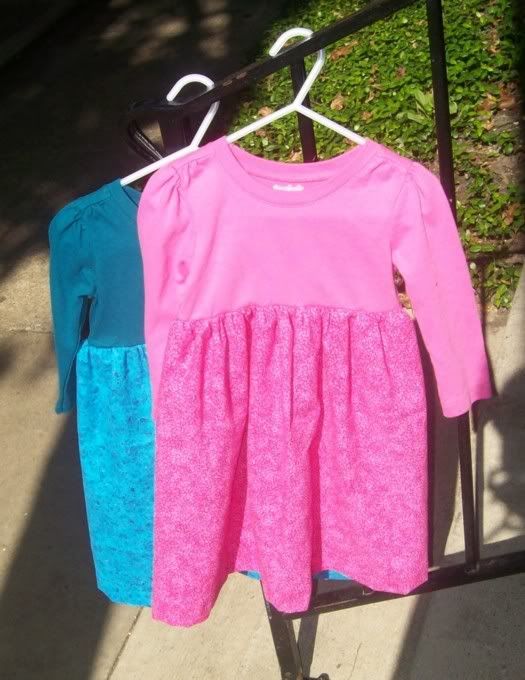 The method can be used for any size, even on up to adult. I'm so excited with how cute they are that I want to make some next fall for her, too. Hopefully she'll grow a little between now and then. :)
Lydia loves shoes, no matter if they're hers or mine or hubby's. Hers are a little too small for her to put on by herself, but she loves to step into mine and hubby's, and even walk around in them:
Hubby's jobs are still going great. He loves both of them and is able to relax at home now instead of stress out wondering what he's going to do with the rest of his life. My "three" jobs are going ok, too, but I'm waiting on an unexpected update for one of them tomorrow. I am an independent contractor for that company, and they posted something the other day about suspending operations, so I hope there will be work this quarter. But if not, I still have the other two things to continue helping w/ debt, etc. Our credit card is finally under 6K again, so we're making progress there.